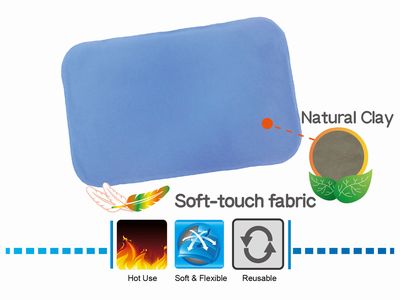 Outer Material: Polyester + PVC
Contents: Clay
Size: 29.5 X 19 cm
Color: Blue
SPECIFICATION
►Outer Material :
Polylester + PVC
►Contents :
Clay
►Size :
29.5 X 19 cm
►Color :
Blue
►Made In Taiwan
FEATURES
►Super soft-touch fabric is more flexible and pliable.
►All-natural clay based pack.
►
Especially for hot therapy
►Certificate:ISO9001/ISO13485/CE/GMP
►Reusable
USAGE
►Hot Therapy:
♦
Place the pack in a microwave oven (recommended 1000W).
Ensure that the clay is evenly distributed in the pack.
Heat the pack for 30 seconds at a low power setting. Heating times will vary with the power of the microwave.
If more heat is required, heat in additional 5-second increments until the desired temperature is reached.
Allow the pack to rest at least 1 minute before application.