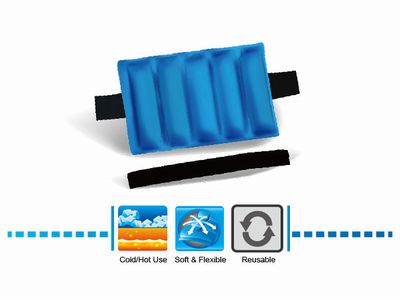 Outer Material : PVC
Contents : Gel
Size : 28.5 x 19.5 cm
Gel Color : Blue
SPECIFICATION
►Outer Material :
PVC
►Contents :
Gel
►Size :
28.5 x 19.5 cm
►Gel Color :
Blue
►Made In Taiwan
FEATURES
►Suitable for both cold and hot therapy (Accept temperature:-20~100
°
C)
►Remains soft and flexible after freezing, even in temperatures as low as -20
°
C
►Retains heat or coolness for a minimum of 30-45 minutes.
►Certificate:ISO9001/ISO13485/CE/GMP
►Reusable
USAGE
►Cold Therapy:
♦Place the pack in a freezer for at least 15-20 minutes before each use.
►Hot Therapy:
♦
1. Place the pack in hot water (max 80℃) for 15-20 minutes.
2. Remove and wrap the pack in a dry towel.
3. Apply to affected area.
CAUTION
►To avoid frostbite or burn, always wrap the pack in a towel prior to each use.
►Cold or hot therapy is generally recommended for treatment no longer than 20 minutes per use.
►When using as treatment of post-surgical trauma, follow the instructions of your medical practitioner.
►If contents are exposed to the skin or eyes, flush with water immediately. If irritation or redness persists, consult a physician.
►Children should use this product under adult supervision .
►For external use only; contents not intended for ingestion. If contents are accidentally ingested, seek immediate medical attention of a physician.
►Do not open pack and/or ingest contents.
►Special Safety Formula to discourage ingestion.