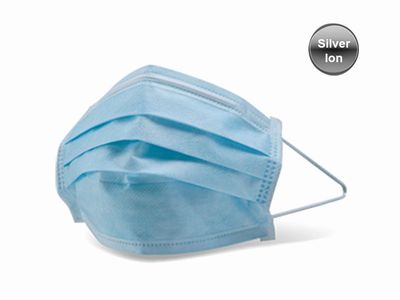 External Material : Polypropylene material
Internal Material : non-woven, silver ion layer, EP fabric
Type : 4 LAYERS WITH EAR LOOP
Size : 17.5 x 9.5cm (ADULT)
COLOR : BLACK
SPECIFICATION
►External Material : Polypropylene material
►Internal Material : Non-woven, silver ion layer, EP fabric material
►Type : 4 Layers with ear loops
►Size : 17.5 x 9.5cm (Adult)
►Color : Black
►Made In Taiwan
FEATURES
►Bacterial Filtration Efficiency (BFE) Standards of 99%
►Designed for adults filter mask :
Effectively protects against: sub-micron particles, fine dust, biological agents (bacteria, or viruses), and fluid splashes.
►Four layer Design :
♦External layer - Fluid splash resistant and odor absorbing layer.
♦Silver Ion layer - Antibacterial, and help to refresh the air.
♦Filter layer - Bacterial Filtration Efficiency (BFE) standards of 99%.
♦Inner layer - soft fiber material, provides a comfortable feeling for prolonged wear.
►With Ear loops and Nose piece
USAGE
►Open up the mask pleats by gently pulling the top and bottom.
(Note: the top has a plastic nose band across the top seam).
►Slightly bend the nose band and place the mask over the face, covering the nose and the chin.
►Fasten the ear loops around the back of the ear.
CAUTION
►DISPOSABLE, SINGLE USE ONLY. DISCARD AFTER USE.
►If masks are damaged in any way, discard right away. Do not enter any contaminated rooms.
►When removing the mask, do not directly touch the front of the mask, as there may be impurities
on the surface layer of the mask. Remove the mask by grabbing from either the left or right side seams
to reduce contamination on to hands.
►Keep away from open flames as masks will become defective when exposed to flames.
►Please store in a cool dry place, away from direct sunlight.