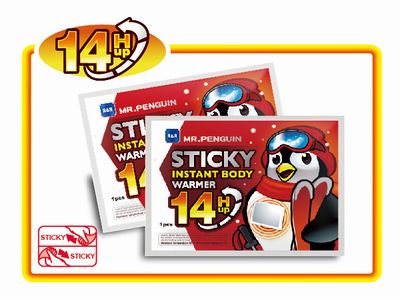 Model:Body/Adhesive Warmer
Spec.:14Hrs Type
Size: 10cm x 13cm
Outer Material:PE
SPECIFICATION
►Outer Material :
PE bag
►Specification :
• Type-Hand/
Adhesive
warmer
• Duration-14Hrs Up
• Temperature-MAX:63
℃/
AVG-53
℃
►Packing :
1PC W/inner bag ; 10PCS W/outer Bag
►Made In Taiwan
FEATURES
►
High Quality Formula
►
Personal body warmer for aches, pains,
arthritis and general heating pleasure
USAGE
Open outer package & remove the warmer.
Remove the warmer patch, and attach it to your clothes.
(Please do not put the warmer directly to your skin to prevent burning)
CAUTION
DISPOSABLE, SINGLE USE ONLY. DISCARD AFTER USE.

If the temperature starts to cool, shake the Warmer 2-3 times to re-heat.
For best result, please place a thin layer of clothing between skin and Warmer to prevent any risk of burning.
Do not use the warmer during sleep.
If irritation or redness on the skin occurs during use, please stop using immediately.
Children are to use under adult supervision.
For diabetic and hypertensive patients, please monitor closely the temperature.
After use dispose Warmer and outer package responsibility.