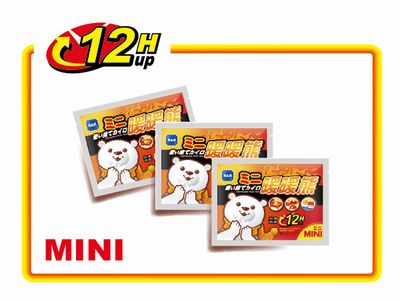 Model:Body/Hand Warmer
Spec.:12Hrs Type
Size: 9.5cm x 7.5cm
Outer Material:PE
SPECIFICATION
►Outer Material :
PE bag
►Specification :
• Type-Hand/Body warmer
• Duration-12Hrs Up
• Temperature-MAX:63
℃/
AVG-53
℃
►Packing :
1PC W/inner bag ; 10PCS W/outer Bag
►Made In Taiwan
FEATURES
►
High Quality Formula
►
Personal body warmer for aches, pains,
arthritis and general heating pleasure
USAGE
►
Remove Warmer from its protective pack.
►
Shake lightly two or three times to generate instant heat.
►
Shake the Warmer if the temperature starts to cool.
►
For best results, please place a thin layer of clothing between skin and Warmer to avoid any risk of burning.
CAUTION
►
DISPOSABLE, SINGLE USE ONLY. DISCARD AFTER USE.
►
Avoid using the warmer during sleep, it may overheat.
►
If irritation or redness happened during use, please stop using immediately.
►
Children to use under adult supervision.
►
For diabetes and hypertension patients, please pay attention to temperature of the warmer.