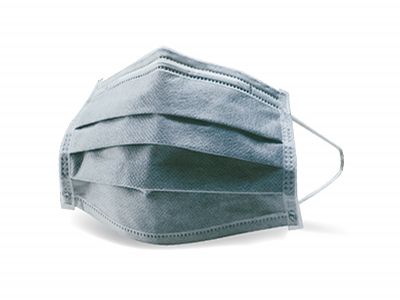 External Material : Polypropylene material
Internal Material : non-woven, carbon fiber, EP fabric
Type : 4 LAYERS WITH EAR LOOP
Size : 17.5 x 9.5cm (ADULT)
COLOR : BLACK
SPECIFICATION
►External Material : Polypropylene material
►Internal Material : Non-woven, carbon fiber, EP fabric material
►Type : 4 Layers with ear loops
►Size : 17.5 x 9.5cm (Adult)
►Color : Black
►Packing : MA-004-EOP-5pcs/Bag
MA-004-EB-50pcs/Box
►Made In Taiwan
FEATURES
►Bacterial Filtration Efficiency (BFE) Standards of 99%
►Designed for adults filter mask :
Effectively protects against: sub-micron particles, fine dust, biological agents (bacteria, or
ba
cteria
), and fluid splashes.
►Four layer Design :
♦External layer - Fluid splash resistant and odor absorbing layer.
♦Carbon activated layer - Can block odor, fine dust in the air and non-volatile gases.
♦Filter layer - Bacterial Filtration Efficiency (BFE) standards of 99%.
♦Inner layer - soft fiber material, provides a comfortable feeling for prolonged wear.
►With Ear loops and Nose piece
USAGE
►Open up the mask pleats by gently pulling the top and bottom.
(Note: the top has a plastic nose band across the top seam).
►Slightly bend the nose band and place the mask over the face, covering the nose and the chin.
►Fasten the ear loops around the back of the ear.